Promote the role of all parties in collective labor agreements
Negotiating and signing collective labor agreements (CLAs) by professional category is among the trends to perform the duties of representing and protecting the legitimate rights and interests of trade union members and workers.
7 collective labor agreements signed by groups of enterprises
On November 11 afternoon, the Vietnam General Confederation of Labor in collaboration with the International Labor Organization (ILO) in Vietnam organized a workshop in Hanoi to evaluate the results of collective labor agreements, the signing and realizing of collective labor agreements of enterprise groups in Vietnam.
In the framework of the working session, delegates focused on discussing and evaluating pilot results of collective bargaining of business groups; share lessons learned from the pilot localities; on the role of the parties in promoting collective bargaining and collective bargaining agreements; deploying representative duties for workers, protecting legal and legitimate rights and interests of workers ...
Speaking at the opening ceremony, Mr. Ngo Duy Hieu, Vice President of Vietnam General Confederation of Labor, said that the business group agreement that benefits all parties is a negotiating trend of trade unions. countries in the world. After a few years of implementing the pilot model, up to now, we have obtained 7 signed collective labor agreements. This is a very encouraging result, confirming the efforts of the parties, providing important arguments for the amendment of the Labor Code.
However, according to Mr. Ngo Duy Hieu, many employers and presidents of grassroots trade unions have not yet seen the meaning of collective labor agreements, so it is necessary to enhance propaganda for business owners and presidents. Grassroots trade unions are aware that this is a beneficial model for all parties, including businesses.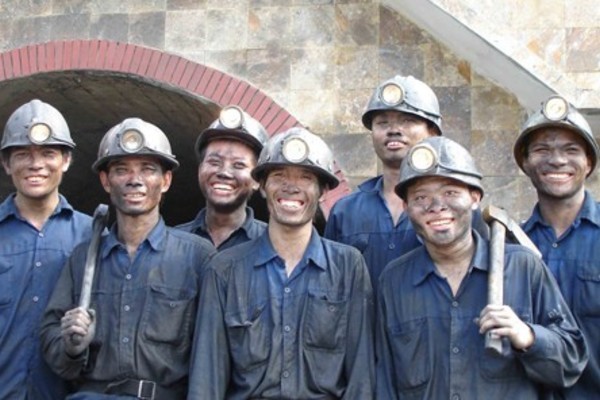 The propaganda needs to be strengthened so that business owners and grassroots trade union presidents are aware that this is a model that benefits all parties, including businesses. Illustrative photo.
Mr. Ngo Duy Hieu suggested that experts and trade union officials need to discuss more deeply about the achieved results, advantages, difficulties and lessons learned to continue promoting the enterprise group agreement in In the coming time, this should be considered as a priority trend for the Vietnamese Trade Union to take care of and better protect the rights and interests of workers.
Piloting the negotiation and signing of collective labor agreements by industry group
In July last, representatives of employers in 5 enterprises: Ha Hung Joint Stock Company, Viet Phat Co., Ltd .; Suntex Company Limited; Nhat Hoa Production and Trading Co., Ltd; Y&I Co., Ltd. and the collective representative of the workers in the enterprises, Ms. Ton Kim Thuy, Chairman of the District Labor Confederation, agreed to sign the CBA of the district garment enterprises.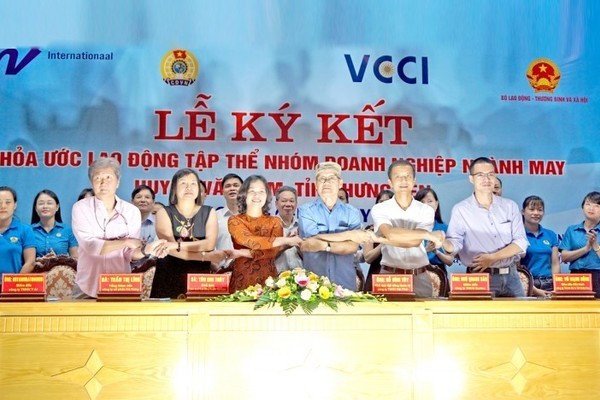 The signing ceremony of a collective labor agreement of a group of garment and textile firms in Van Lam, Hung Yen.
The chairman of the district labor union said that this is the result of the district labor union - representing workers in 5 garment enterprises and leaders of 5 enterprises conducting collective bargaining with 13 contents that have been negotiated in The previous bilateral session to reach the target was that all 5 enterprises agreed 100% with 13 contents given by the employee representative. Accordingly, nearly 4,000 employees from 5 garment enterprises from here will enjoy many benefits.
Specifically, every year, the enterprise awards the 13th month of salary to employees with a working period of full 12 months or more, with a bonus of at least 1 month's salary under labor contracts; awarding innovations, emulation and productivity for creative and high-yielding laborers; providing shift meals for employees with a value of at least VND 16,000 / person / meal (only including food costs); shift meals must change daily food, ensure nutrition, food safety; In each production shift, enterprises shall arrange a short break time of at least 10 minutes for laborers to exercise; monthly allowance for women; take time for employees to improve their legal knowledge; Annually, enterprises organize workers to visit and travel.
As the representative of one of the 5 employers who directly signed the collective labor agreement, Mr. Do Dinh Tuy, Chairman of the Board of Directors of Viet Phat Co., Ltd., learned that the Labor Federation of Van Lam district was approved by the Vietnam General Confederation of Labor, Hung Yen Labor Federation chose to pilot the project "Promoting workplace dialogue and effective negotiation in the textile industry" from the beginning, he was very supportive.
"Implementing the CBA will help reduce labor disputes and strikes that are not in accordance with the law; limiting labor fluctuations, labor competition between enterprises participating in group discussions, helping businesses in the group build a business image for workers from there, attracting new workers, position, brand of businesses in the group," Mr. Tuy analyzed.
Hoang Anh