Essential Services Improved to Support Women, Children Experiencing Gender-Based Violence
Women's role in trade is increasing as they contribute not only to the growth of the economy, but also the harmony and sustainability of society.
The guidelines in the Essential Services Package (ESP) for Women and Girls Subject to Violence, help to ensure that the range of services across different sectors can provide the necessary level of support and response to everyone with no exceptions, heard a seminar in Vinh Phuc province.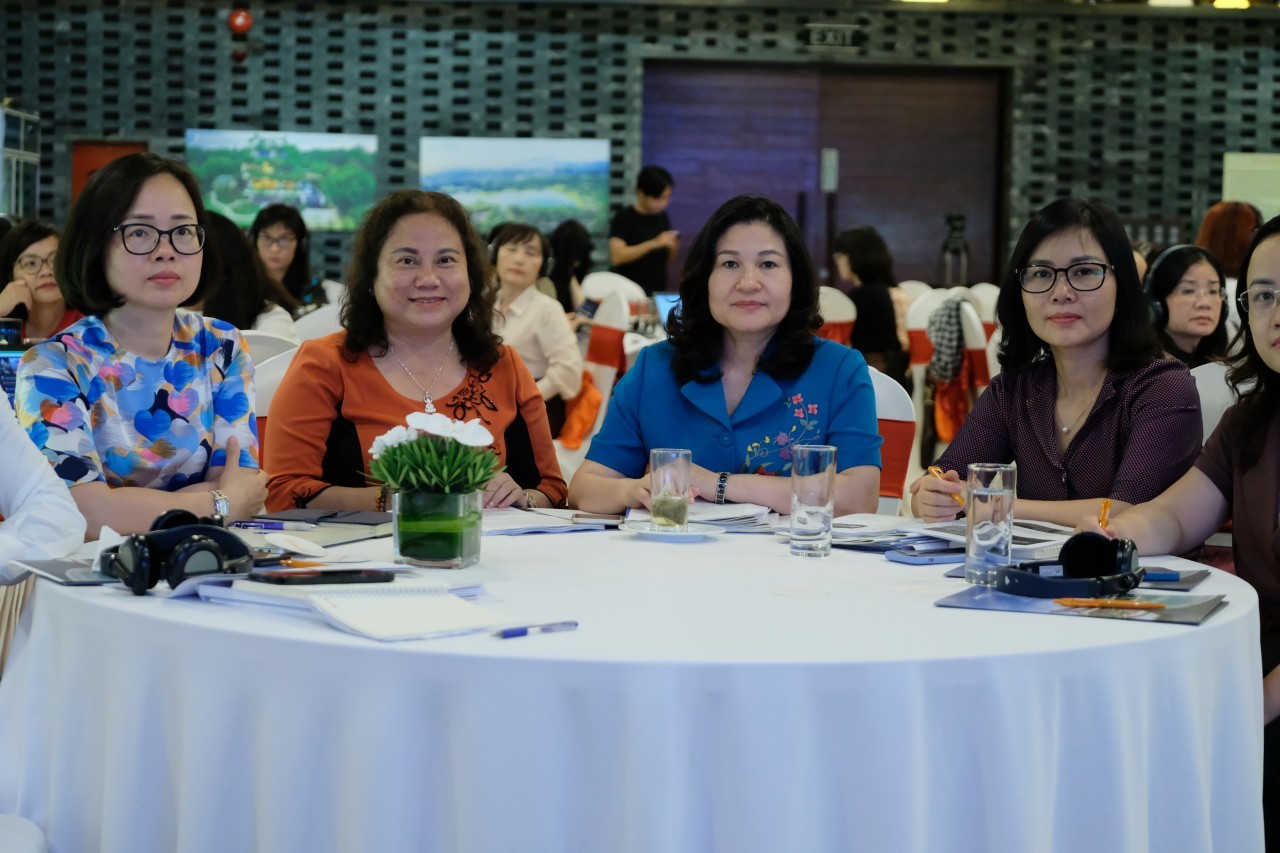 Delegates at the seminar. Photo: Gia Doan
More than 80 delegates from United Nations agencies, line ministries, departments, representatives of several provinces and cities, national and international development organizations, on June 21 gathered and shared experiences after the five-year implementation of the United Nations Joint Program on Essential Services Package (ESP) for Women and Girls Subject to Violence in Vietnam.
This is a Global Joint Program between the United Nations Entity for Gender Equality and the Empowerment of Women (UN Women), the United Nations Population Fund (UNFPA), the United Nations World Health Organization (WHO), United Nations Development Program (UNDP) and the United Nations Office on Drugs and Crime (UNODC), and aims to provide greater access to a coordinated set of essential and quality multi-sectoral services for all women and girls who have experienced gender-based violence.
In Vietnam, the program embraces the close coordination and participation of four United Nations agencies - UN Women, UNFPA, WHO and UNODC in conjunction with six ministries and sectors including the Ministry of Labour, Invalids and Social Affairs (MoLISA), the Ministry of Health (MoH), the Ministry of Justice (MoJ), the Ministry of Public Security (MPS), the Supreme People's Court and the Supreme People's Procuracy.
The programme identifies the essential services to be provided by the health, social services, police and justice sectors, as well as guidelines for the co-ordination of essential services and the governance of coordination processes and mechanism.
Le Thi Lan Phuong, UN Women program officer said, "Violence against women is one of the most serious forms of human rights violations". Photo: Gia Doan
At the conference, Le Thi Lan Phuong, UN Women program officer, said that victims of violence need many needs: safety, economic support, advice, psychological counseling, and legal support. However, over the past time, measures to respond to violence against women have been fragmented: available services are quite limited; social norms also downplay and normalize violence against women and girls; lack of inter-sectoral information and transfer mechanism.
From 2017-2022, 30 training courses was held with nearly 6,500 state management officers, service providers in different fields who were trained in knowledge and skills to support women and children experiencing violence in adherence to the victim-centered principle.
Nearly 60,000 documents, toolkits and leaflets guiding the contents related to the ESP were standardized, formulated and distributed nationwide.
ESP were successfully developed and piloted in localities. In which, a rapid response team for domestic violence prevention and response including different service providers was established in the districts of Ben Tre province, becoming a typical model nationwide.
Guidelines for the process of providing social services, minimum standards for shelters and guidelines for operating hotlines to support survivors of violence have been formulated and piloted.
A plan for coordination and management of services in Ben Tre and improved social services in Hoa Binh province has initially been piloted.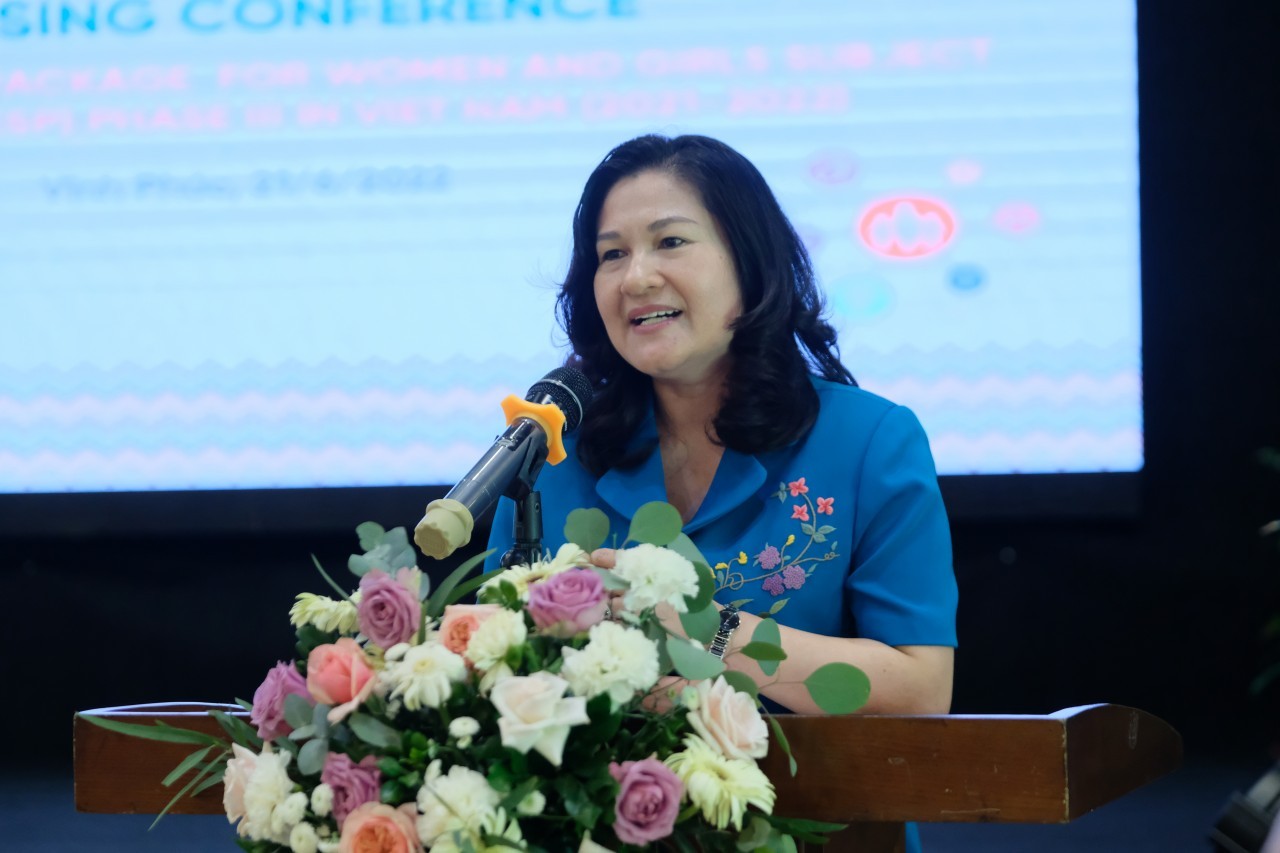 "Gender-based violence, especially violence against women and children, is a difficult problem to eliminate, but it does not mean that it cannot be stopped. We need to act immediately and have zero tolerance for any form of violence," emphasized Deputy Minister of Labor, War Invalids and Social Affairs Nguyen Thi Ha.
Attending the seminar, Vu Thi Huong, deputy director of the MoJ's Legal Assistance Department, said that supporting deaf and hard-of-hearing victims still faces many difficulties. The infrastructure system is not yet friendly to people with disabilities, and the lack of support from staff capable of communicating in sign language are major barriers in implementing the essential service package for this group.
Delegates proposed to evaluate the results to replicate the pilot model of supporting victims in the community such as: safe shelters/houses, one-stop centers, easy-to-remember and easy-to-access hotlines.
Elisa Fernandez, UN Women's head of office in Vietnam suggested that the Government of Vietnam invest more in violence response services on a quality basis, meeting the needs of women and girls.
A high consensus has been obtained among government agencies and the UN on the significance and effectiveness of the ESP. The effective delivery of the ESP will contribute to boosting the successful implementation of the Program on GBV Prevention and Response 2021-2025 in Vietnam.
Findings from the national study on violence against women in Vietnam in 2019 show that nearly two-thirds (62.9%) of women experienced at least one or more types of violence in their lifetime by their husbands and/or mates. However, over 90% of women, who experienced physical and/or sexual violence from husbands did not seek any help from formal service providers.
(vietnamtimes.org.vn)